RETHINKING THE WAITING ROOM

DESIGN
2022





Client: Royal Society of Arts

Brief: Collective Imagination / How might we build the capacity and capability of local communities to collectively imagine the future they desire?

Project: Reimagining UK healthcare spaces using biophilic design, to create positive experiences which promote mental health. The project aims to benefit the National Healthcare System long-term, by improving general health and increasing regular check-ups as well as recovery rates.


Biophilic Design

Biophilic design is a human-centred approach which uses a universal deisgn ethos, as natural environments are universally known to be benefical to our health. We've all had positive experiences of nature. Interacting with nature is necessary for people's physical and mental health and well-being. Healthcare settings are areas of highvstress for patients, vistors and staff. Biophilic design in healthcare can improve health challenges such as blood pressure, heart rate, tension, and stress hormones (Clark, 2020).

The pandemic has seriously impacted the National Healthcare System, where healthcare centres are overcrowded and overworked. Integrating a restorative nature-centric environment in healthcare settings improves well-being and therefore has the potential to increase recovery rates, work efficiency, make check-ups regular, in turn being economically benefical for the NHS and providing opportunity for funding to be redirected. The waiting area is the initial experience of all users, setting up the rest of their experience. Making healthcare settings a comfortable space creates healthy and sustainable communities.




Research

The waiting room acts as the initial patient experience in healthcare settings and may set the tone for the rest of their experience. As waiting times increase, patients experience higher levels of stress. This may impact their perspective on the healthcare system, leading to a decrease in regular check-ups and slower recovery rates.

Several outcomes were produced as a result of workshops, conducted with patients of the NHS and their GP's, with the aim of gaining deeper understanding of how they interact with the space. Research showed a focus on parent and child difficulties in their visits to the GP. Current waiting rooms do not have sufficient forms of entertainment for younger ages, putting a strain on parents during their visit. As a result, this may lead to patients avoiding GP visits, putting a bigger economic risk on the NHS in the long-run.



Three multi-sensory experiences were designed using the three strands of biophilic design, aiming to decrease stress and anxiety levels in patients and create positive experiences.







Nature Analogues

Natural Analogues uses indirect methods to reflect nature through naturally-inspired patterns and shapes with non-natural materials or materials that have been extensively altered. Features include artificial plants, preserved moss walls, artwork and patterns that evoke feelings of nature.

The Anologue Puzzle uses nature analogues to make up a colourful scenary, indirectly offering the feeling which natural environments induce. The activity offers younger ones a form of entertainment as well as an educational experience, where fun nature facts are also written on the back of each puzzle piece. The puzzle pieces are made of recycled wood.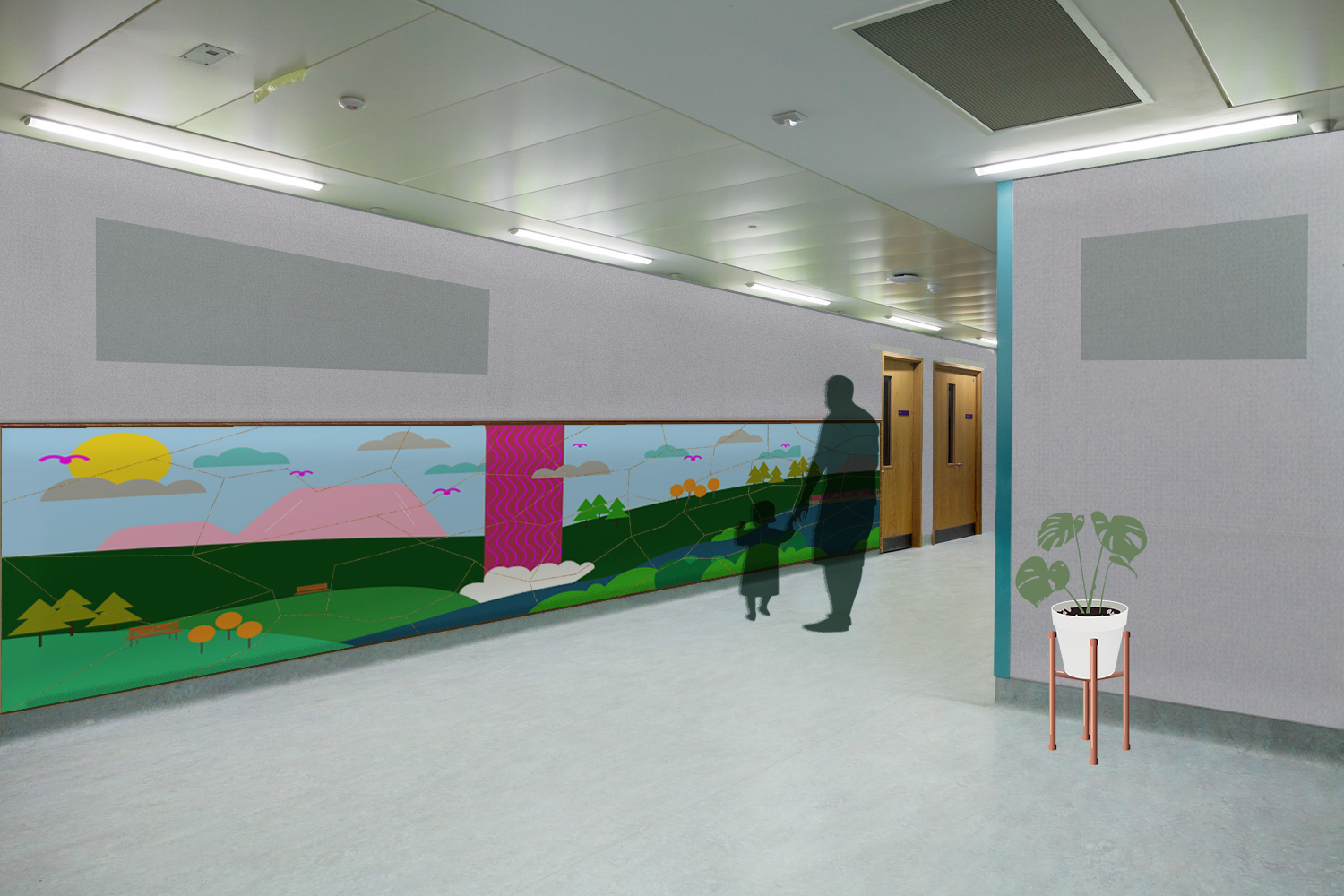 Nature of the Space

Nature of the Space mimics or is inspired by spatial configurations in nature, replicating the feelings that natural spaces give us. This concept looks at the built environment around us and how we relate to it. Features include open-spaces, and oversized windows, and the use of natural materials.

Analogue Tree targets parents visiting the GP with their child/children. An easily constructible tree-like structure made of recycled wood, with incorporated spaces for speakers and sun-light bulbs. The structure not only offers a multi-sensary experience and focuses on entertainment for younger years. Leaf puzzles can be constructed and deconstructed, and hung from the branches of the tree.



Nature in the Space

Nature in the Space refers to a direct presence of nature and includes multi-sensory interactions like thermal, visual, haptic, and olfactory. These direct connections have the most beneficial impacts on humans. Features include plants, animals, gardens, and natural light.

Inspired by Maggie's Cancer Care Centres, the Conservatory Space is a higher budget proposal offering a real-nature experience by creating an extension of the current waiting room. The conservatory extension is built on the quieter side of the practice with accessible access from inside. The walls can be retracted in warmer seasons, offering natural light, ventilation and connection to nature.